For Christmas, a couple of my dear friends surprised me with a Kindle Fire! I was so overwhelmed by the gift that I was nearly speechless! I'm a BIG Kindle fan and I had always loved reading on my 2nd generation Kindle. However, as soon as I opened my Fire, we've been inseparable. At first, I was only really playing games, web browsing, and watching movies on it. Over the last weekend, however, I broke down and tried reading on it. (o_O) I'm hooked. I was really worried about reading on the back-lit Kindle Fire because I sometimes suffer from eye strain issues, but the Kindle Fire is AMAZING. Not only can you turn down the brightness, but you can also pick a black or sepia background to read on! I still plan on using my Kindle 2 for reading in situations where the Kindle Fire wouldn't be the best choice (such as really bright rooms, outdoors, or in the tub when I need my waterproof sleeve), but otherwise, I thoroughly enjoy reading books on my Fire. Here are some pictures of my little lovely: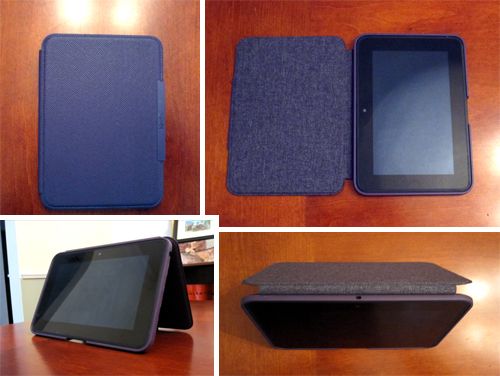 As you can see, my friends also got me a super cool purple cover! I LOVE purple, so I was pumped up when I saw it. The case is really awesome in that it seals closed when it is in "cover" mode and when you want a stand, the rubbery bit (that has "Kindle" on it) lets you create a sleek and functional lean-to. In case you're wondering, the Kindle Fire that I have is an HD 7″. It is the perfect size for me. It's not too large to carry around (everywhere) and the display is simply gorgeous. The colors are so vivid and the lines are so crisp that I truly feel it is the top tablet around. (Apple people, please don't throw apples at me…)

The first book I read on the Fire was Kisses from Katie by Katie Davis and I DEVOURED it–partly because the book is a life-changer, but also because it is so easy to read on the Kindle Fire. I was shocked that I never once suffered eyes-strain issues. And believe me when I say I spent a LOT of time reading on it for extended periods of time. As you know I'm always reading about forty books at a time, but on the Fire right now I'm reading Lindsay Buroker's second novel in her Emperor's Edge series, Dark Currents. SO, so good. And so much fun to read on my Fire!
Ever since I was a kid, I've had this penchant for naming inanimate objects. My first Kindle (given to me by my adoring Philosopher) was dubbed "Kiki the Kindle". Her big sister, the Fire, is now called "Keiko the Kindle".
What is your favorite eReader? Do you prefer the Nook, Kindle, Kovo, or something else? If you like Kindle, what is your preferred Kindle reader? I'd love to know!
A Holiday Surprise! The Kindle Fire