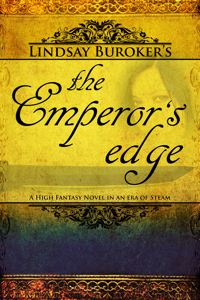 Title: The Emperor's Edge
Author: Lindsay Buroker
Length: (Paperback) 322 pages
Genre: Steampunk//Fantasy
My Rating: 5/5 Stars
I discovered Lindsay Buroker's website while I was researching self-publishing tips. I learned she had several steampunk books out and I just HAD to check out the first one, The Emporer's Edge, right away. Steampunk is something I've always known I liked, but I hadn't really sought out stories of that sort. Upon reading the premise behind this book, I procured it from Amazon for my Kindle. It is available in eBook and print.
This book was enjoyable and fun from the first sentence to the last. It was full of laughs, seriousness, action, and tension. I thoroughly enjoyed the main character, Amaranthe Lokdon, and found her to be a flawed, interesting, and heroic lead. A cast of varied, supporting misfits rounded out the story and gave it the appropriate depth to inspire the heroine to step up and lead. The world itself was FASCINATING to me. A fictional empire full of steam-powered vehicles, prejudices against neighboring nations, and political unrest was something entirely new to me.
Buroker's prose possesses a charming wit and elegance that is rarely seen these days. I also loved that she was NOT afraid to use big words and a thesaurus! I'm one of these nuts that LOVES learning new words, so I was very happy to find several vocabulary treasures along the way. If you're not one of these people, though, you may scratch your head at a few sentences.
This book is a jewel among ALL fiction books and especially among self-published authors' works. It was well edited, well crafted, and SUPER fun to read. I cannot WAIT to read the next installment!
You can find The Emperor's Edge for FREE at Amazon and Smashwords and for $.99 at Barnes and Noble! Go check it out! You will not be disappointed.
Book Review: Emperor's Edge by Lindsay Buroker