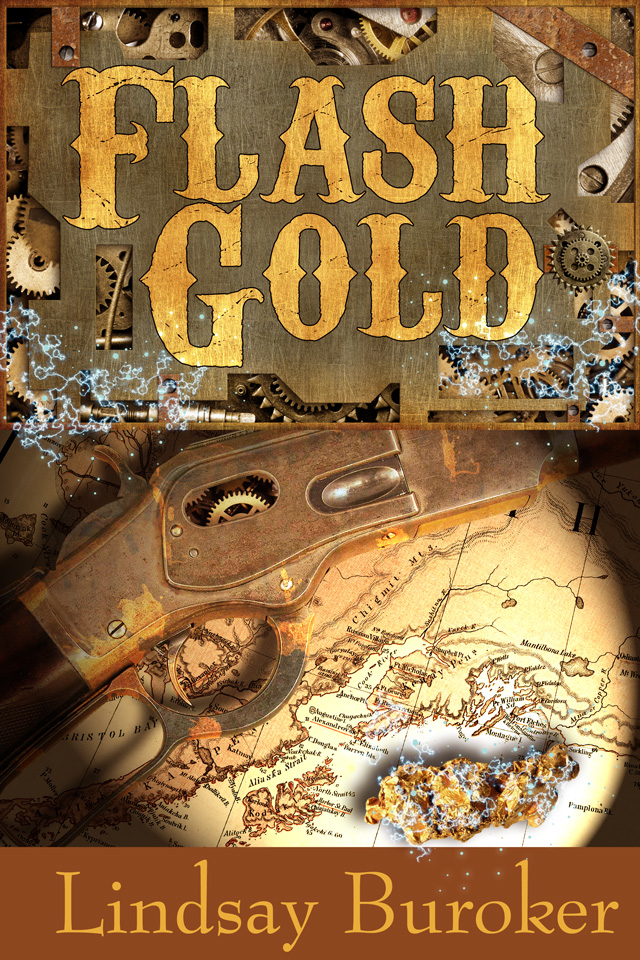 Titles: Flash Gold // Hunted // Peacemaker
Author: Lindsay Buroker
Length: 3 novellas so far (avg. about 20,000-30,000 words)
Genre: Steampunk//Fantasy
My Rating: 5/5 Stars
I fell in love with Lindsay Buroker's writing after reading The Emperor's Edge a few weeks ago. Since then, I have been devouring her books one after the other. I gave Flash Gold (the first book in these chronicles) a shot after downloading it for free from Amazon. The first book in the series is currently free on its distributed locations (Amazon, Smashwords, Barnes and Noble, etc.). I read it very quickly, as it is a short novella. I immediately purchased the next two books in the series Hunted and Peacemaker, and quickly imbibed them as well.
I thoroughly enjoyed all of these novellas. They follow the adventures of Kali McAlister and her partner in "shenanigans", Cedar. The stories take place in an alternate universe Yukon and you'll see all sorts of classic Buroker steampunk elements here. There are steam powered contraptions (mostly created by Kali in the story) and even airships! I was sucked in from word one. These stories are fun, creative, detailed, and exciting! The action was superb–especially in the third book–and the characters are flawed, believable, and lovable.
I was especially intrigued by the relationship between Kali and Cedar. Without giving too much away, their partnership is an interesting tangle of trust, friendship, respect, and….(maybe) romance. It was fascinating to watch their interactions over the course of the three novellas.
I've never been one to read stories that take place in the Yukon or the "West", but I found myself thoroughly enjoying the look at a fictional 19th century Canada similar to our own in history. I loved all the details Buroker provided about the life of women, miners, townees, indigenous peoples, and criminals. She may have gotten me hooked on reading stories in this setting!
If you're not sure you want to give it a shot, take a look at this free preview of Flash Gold on Buroker's website! Trust me–even if you're not sure you'll enjoy such a setting, give it a shot anyway! These novellas will sweep you off your feet and transport you into a fun, exciting, thrilling story! PERFECT for reading an entire series in a weekend!
You can find Lindsay Buroker at her website, Twitter, and Facebook!
Book(s) Review: The Flash Gold Chronicles