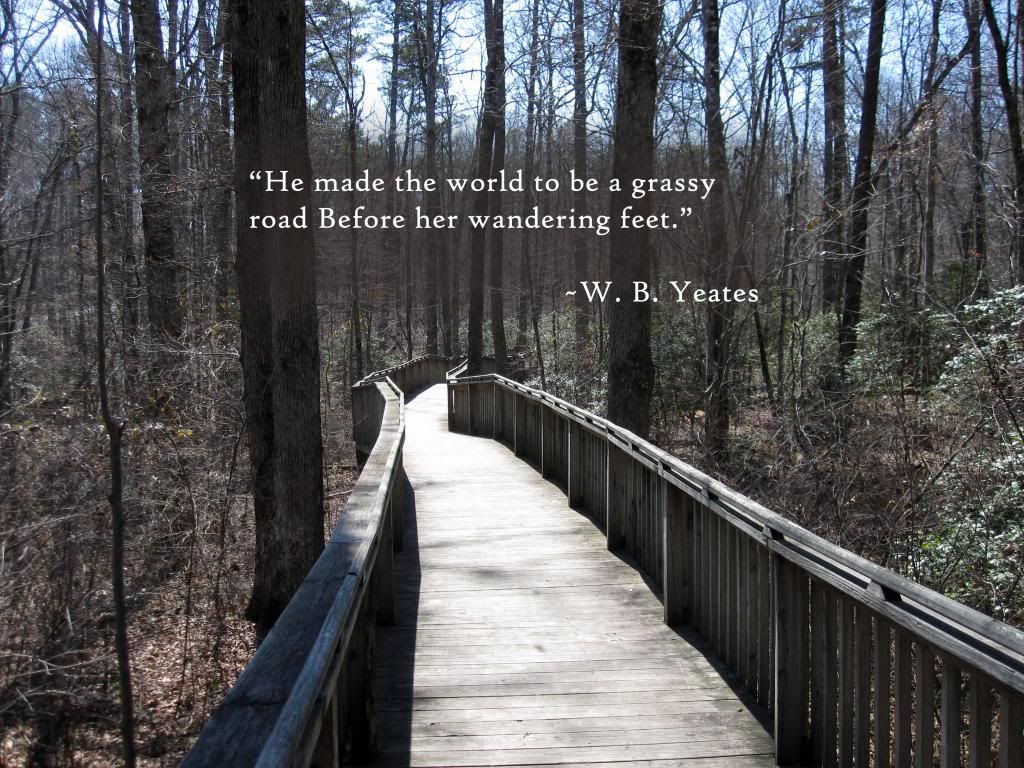 Back to our Wednesday Wanderment! I've been reading lots of great blog posts and articles this week, so I can't wait to share them with you! If you read my post about working long hours yesterday, you'll be pleased to know that I survived, but there is still quite a bit to be done on a certain project. So much so, in fact, that I'll be devoting almost the entire workday to it after I post this. That's just how it's got to be sometimes, though. 🙂 Good thing is, it's a project I can throw on some great music and just get in the zone. I'm sure it will be a relief to have it over and done with, but I want to do it correctly, so I need all the energy and mental brain power I can get. Wish me luck!
For now, here's some of my wanderings from this week:
Favorite Blog of the Week: 
>> The Cheap Reader — I love this gal's blog! She always posts interesting book reviews and challenges! Be sure to check her out, because she's hosting the blog event: Project Fairy Tale— which I am participating in! 🙂
Favorite Posts of the Week: 
>> Belated Bests: My Reading Life in 2012 // Bunbury in the Stacks
>> 5 Ways Dystopian Fiction May Surprise You // Writer Unboxed
>> New Emperor's Edge Novella (Beneath the Surface) Preview // Lindsay Buroker
>> The Finishing Touches // Writer Unboxed
Currently Reading
>> The New Rules of Lifting for Women by Lou Schuler, Cassandra Forsythe, and Alwyn Cosgrove
>> Dark Currents by Lindsay Buroker
>> Hogfather by Terry Pratchett
>> Walking with Bilbo by Sarah Arthur
>> The Adventures of Sherlock Holmes by Arthur Conan Doyle
>> The Silmarillion by J.R.R. Tolkien
>> Works of Love by Søren Kierkegaard
Currently Writing
>>The third novel in my Tales from Niflheim series!
Currently Editing
>> The first novel from my Tales from Arata series! (details will follow closer to publication date)
Random Cuteness
>> Happy Birthday to THIS Little Guy!
Favorite Memory from the Week
>> Staying at a cabin with my hubby and another couple laughing, playing board games, and just chillin'. SO good.
Upcoming Events
>> Project Fairy Tale— as mentioned above, in February, I'll be participating in this blog event! Don't miss out! Here is my blog post about it if you desire more information.
Random Facts About My Writing and Reading Habits
>> I love reading at nighttime, snuggled up in my bed with lots and lots of covers.
>> I love writing on the computer AND on paper. I typically write all manuscripts in Word, but I love to brainstorm, plan, and outline in a notebook.

>> I truly feel that in order to be a great writer, you must devote a huge portion of your time to reading.
Happy Wednesday, all!
——————————————————
REMINDERS
>> Night Bells is only $0.99 for Kindle and Nook! Get your copy today. Not sure you want to take a chance on it yet? Check out the first chapter for free here.
>> If you've read Night Bells and would like to read more Tales from Niflheim, check out the sequel, Silent Shades! It's available for Kindle, Nook, and in print.
>> Sponsor spots on Unearthing Words are a great way to spread the word about your blog! Large sponsors are featured in an interview of their own and medium sponsors are featured in a group post sometime during the month of their sponsorship. Check out my Advertising page if you're interested.